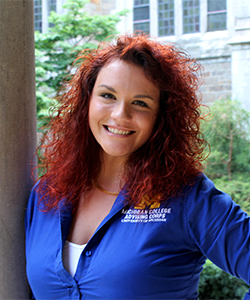 The Center for Educational Outreach (CEO) welcomes Mollie Bush as program director for the Michigan College Advising Corps (MCAC). Mollie previously served as the MCAC's program coordinator. She officially began her new role on July 1, 2017.
"CEO is very pleased to have Mollie Bush selected as Director of MCAC. She brings a depth of experience to this role as well as a keen passion for advancing educational opportunity and college access. Her knowledge of U-M, of our partner schools, and of strategies for promoting a college-going culture are valued assets to our program as we seek to inform, engage, and inspire students to attend college, " said CEO executive director, William Collins, PhD.
Mollie's background and previous experiences serve as a strong foundation for her to take on this new role. She is a U-M alumnus, having earned her bachelor's degree in Arabic, Islamic studies and History and a master's in Educational Policy and Leadership from U-M's School of Education. Mollie has a passion for working with at-risk youth populations and she previously interned at the Peace Neighborhood Center in Ann Arbor supporting its after-school program. She also has experience as an instructor at a vocational college in Jackson, Michigan, where she helped non-traditional students achieve their academic and professional goals.
As program coordinator for MCAC, Mollie developed an appreciation and deep understanding of the work and is eager to take the program to new heights. She shared: "I am excited to take this next step with CEO and the MCAC program. College access initiatives are important to me both personally and professionally. I look forward to building on MCAC's legacy by exploring new opportunities with our partner communities and developing new partnerships within the university to broaden MCAC's impact."
Mollie can be contacted at mobu@umich.edu.