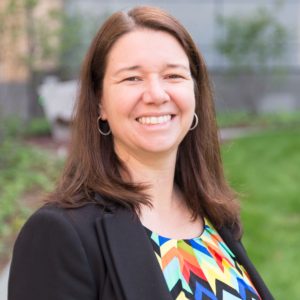 Robert Sellers, vice provost for equity and inclusion and chief diversity officer, has announced the appointment of Kim Lijana as director of the Center for Educational Outreach following a national search.
She will replace the program's founding director, William (Nick) Collins, who is retiring, on Oct. 1.
"Kim is a passionate leader and dedicated to making higher educational obtainable for everyone," Sellers says. "I'm confident that she will excel in advancing the excellence we've come to expect at the Center for Educational Outreach."
The CEO supports and advances U-M's commitment to educational outreach and academic excellence. The program partners with faculty, staff and students to develop and implement programs that inform, engage and inspire a diverse community of scholars.
Lijana has been associate director for the center since March 2017. She helped lead the team through CEO's mission and vision refinement, developed staff to achieve ambitious goals, and launched CEO's Faculty Forum on Outreach and Engagement, as well as their Faculty Structured Outreach Support Fellowship.
Her disciplinary emphasis includes innovative solutions in support of amplified academic achievement for college readiness, and increased outcomes and opportunities for underrepresented students.
"Kim's professional expertise is extremely valuable to CEO," says Sellers. "Her commitment to making higher education accessible to everyone, while connecting faculty, staff and students in this process will benefit and amplify our commitment to diversity, equity and inclusion at the University of Michigan."
Lijana has presented at several national conferences, including the National Conference on Race and Ethnicity in American Higher Education, and Association of American Colleges and Universities Student Success Conference. She has also published in the Johns Hopkins Press and Stylus Press.
She received her Ph.D. and Master of Arts in higher education from U-M, M.A. in teaching from The Johns Hopkins University, and Bachelor of Arts in English from Miami University.
This article originally appeared in the Sept. 13, 2018 edition on The University Record.