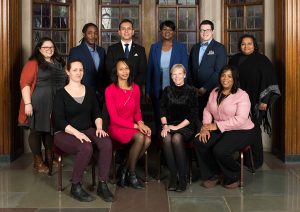 CEO is proud to announce that Michael Turner, Program Director for MCAC, has been awarded the Distinguished Diversity Leaders Award.
Michael has an extraordinary commitment and dedication to diversity at the University of Michigan; it is not just what he does in his work, but how he does it that makes U-M a more diverse, welcoming, and inclusive campus. He started his U-M career focused on building a bridge to students and families in Detroit, Garden City, and Monroe in order to inspire students to pursue higher education and build U-M's trust in communities that were skeptical about U-M having a genuine interest in their concerns. As anyone who works with Michael will attest, he creates a welcoming, supportive and inclusive work environment.
This summer he took on a new role as Program Director for the Michigan College Advising Corps. He is now creating a welcoming and supportive environment for 12 recent U-M alum college advisers working in under-resourced high schools across the state; he has a diverse group of advisers who he is developing into accomplished young professionals. These college advisers are working with about 2,000 high school seniors in support of their college application and admissions process and with Michael's vision and leadership will contribute to higher education including U-M attracting and retaining a more diverse student body.
Each person and team Michael connects with is truly stronger than the sum of its parts; he brings the best out of the people around him. The mission for CEO is to support and advance the University of Michigan's commitment to educational outreach and academic excellence and we are more successful in achieving this mission and contributing to the excellence U-M is known for because of Michael's leadership and contributions. Michael is a force to be reckoned with and exemplifies the Distinguished Diversity Leader Award criteria; U-M, CEO, and MCAC would not be the same without his passion, commitment, and resolve to making U-M a more diverse, equitable, and inclusive environment.   
Read more about the award and this year's honorees in the Record article. https://record.umich.edu/articles/2018-diversity-award-staff-recognizes-10-individuals-five-teams