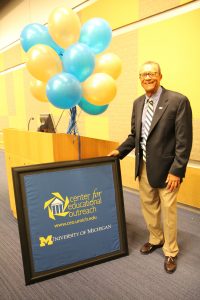 On September 27th, 2018, the Center for Educational Outreach celebrated the retirement of its founding director Dr. William (Nick) Collins. The event included numerous wonderful reflections on Dr. Collins' life work in educational outreach as well as his thoughtful mentorship to the CEO staff.
Dr. Collins' celebration was befitting for a man who dedicated his life to ensure the next generation of college students were empowered and service-minded. Dr. Robert Sellers, Vice Provost for Equity and Inclusion & Chief Diversity Officer, opened the event. He was followed by Dr. Dwight Fontenot, Dr. Lester Monts, Cathy Newton, Amy Prevo, and Dr. Marie Ting. Future CEO director Dr. Kim Lijana closed the official reflections by opening the mic up for audience members to share their gratitude and stories of Dr. Collins.
As CEO's Executive Director, Dr. William (Nick) Collins provided vision, support, and guidance to the dedicated CEO staff chosen for their expertise and passion for our work. He is passionate about developing programs and opportunities that impact the lives of young people that inspire them to view continued education as the best path to social mobility.
With over 40 years of experience, Dr. Collins has expertise in program development, personnel selection, learning and memory effectiveness, behavioral intervention strategies, budget development and management, and general administration. His accomplishments include establishing and stewarding the Center for Educational Outreach, as well as developing, refining pre-college summer "bridge" programs at Cornell University and at the University of Michigan. 
Dr. Collins is a proud alumnus of the University of Michigan where he earned a Bachelor of Arts, Master of Arts, and a PhD in Psychology.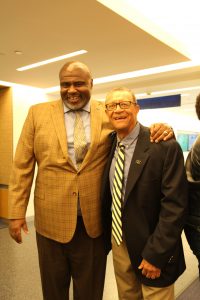 Dr. Collin's legacy at the Center for Educational Outreach continues with the appointment of Dr. Kim Lijana as the new CEO Director. Read the Record article of Dr. Lijana's appointment here.